Star Astros: Happy Birthday Rihanna!!!
(ThySistas.com) Happy 27th Robyn Rihanna! This fire hot diva is the 1st to grace Star Astros for consistently being on point! Spiritual, Stylish & Sensual are just a few keywords to describe this Sun (i.e Shinning) sign Pisces.
Rihanna is a #3 life path and it truly shows through her playful nature as well as her ability to creatively express herself. 3's are born entertainers often artists, singers, poets and actors or in Rih's case: actresses. Please note 3's can be moody and possess the ability to 'lash out' when necessary so please stay the f@*k off her Twitter page with the bull… but we already know this, eh?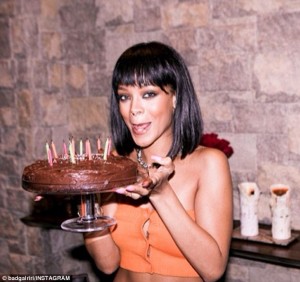 With Venus in Aries, Rihanna is flirty, bold, adventerous and easily learns in motion. She's not one to sit around and read stories on how to act, she's the one who learns from her mistakes although I'm sure she refers to them as "experiences".
Saturn, the planet of discipline & structure sits in Capricorn with this girl!!! That makes her nearly impossible to stop once she sets her mind to a task, noticed the consistency over her 10 year career? Top that with Jupiter (our planet of plenty & expansion) sitting in Aries, she's able to turn the worst into something beautiful with positive energy and the awareness that life is exactly what you make it.
On this day Rihanna enters a #3 year cycle: WHAT NOW? Even more authentic Rih, the releasing of her fears/worries/doubts via her artisty, more opportunities to be in the spotlight and shinning bright like a diamond while there. With a strong focus on "personal happiness" and courage during this 3 year cycle, don't be surprised if we see Rihanna dabbling into adventures outside of music. 
Stay Ready!!! Rihanna is FourFiveSeconds from Wildin' and this ride is ONLY for the open-minded & free spirited.
Staff Writer; Dina Tuff

Connect with Mystic Philosopher & Inner Fitness Coach Dina Tuff @
The Magick Playhouse; http://dinatuff.blogspot.com/
Twitter; https://twitter.com/DinaTuff 
Facebook; https://www.facebook.com/ClubMagick