3 Sure Fire Ways To Look Good In The Gym.
(ThySistas.com) When you can head to the gym once again, you want to look good. Sure, you go for the range of equipment on offer and for the chance to work out specific sets of muscle groups, but you also want to turn heads for all the right reasons. When you are sweating it out in a spin class, doing half an hour on the cross trainer, and pumping some iron in the weights area, you want to be wearing the gear that will flatter your figure and make you look good. Take a look at these three sure-fire ways to look good in the gym.
Go For Neutral Hues
While you might be tempted to buy those shocking pink leggings, or the neon green crop top that you've seen online, don't do it. Instead, you need to go for a more neutral palette to ensure that your attire doesn't become faddy. You want something that will always remain fashionable. Black is flattering anyway, so a cool air of jet black leggings from curves fitness clothing would be ideal for those more active gym sessions. Perhaps you prefer clothing that provides a little more coverage rather than showing off too much skin. There are plenty of long-sleeved tees and light Airtex hoodies to help your skin breathe when getting hot and bothered on the treadmill. Black or gray is also a great color for hiding the dreaded sweat patches, so if you are self-conscious about this, opt for the darker tone.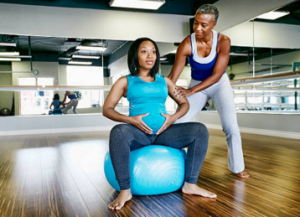 Shoes
One of the first things that people notice about you will be your footwear. Your shoes should be an expression of your personality and can be the one part of your attire that you can opt for something a little more unique and colorful, if you are that way inclined. You might fancy an orange tick on your Nike high tops, or maybe you want a pair of the latest gold Adidas running shoes. Think about the sorts of shoes that would suit. If you are on the treadmill regularly, go for a bespoke running shoe. If you lift a lot of weights, a cross-trainer will be more apt. The flat base of the shoe will be more stable when you are under a barbell. Don't go for a Converse – these are not gym attire.
Your Music
The chances are that you enjoy listening to some of your favorite motivating tunes to help you pound the treadmill just that little bit faster or work up more of a sweat in your spin class to get healthy. When listening to your tunes, you need to have something on your ears that looks good, sounds good, and stays there. All too often, ill-fitting earbuds can make your gym session an awful experience. Go for earbuds that fit snugly and won't slip even when you are active. Think about going wireless so you won't have to worry about wiring and always opt for the headphones or earbuds that have decent reviews online. Noise-canceling can be worth paying for if you don't want to hear other people huffing and puffing around you, and you want to get in the zone.
Follow this guide, and you will look good in the gym when you head back to embark on your cardio workouts.
Staff Writer; Shawna Brown