How Helping Others Can Help You.
(ThySistas.com) All of us have seen street fundraisers asking passers-by for money. You might even have been the person doing the fundraising. Any type of mental illness can be assisted by spending time outdoors with people and making others happy, it is a proven method. However, if you have a little bit of time on your hand and want to get involved with some charity work for others and for yourself then here are some ideas to get you started. It's also important to remember what you're capable of. Especially during these trying times in our pandemic. 
Host a High-Class Evening of Luxury
Sometimes, going for the high-end option can be a lot of fun. Many fundraising evenings come in the form of black tie extravaganzas. This is something that anyone can get involved in too. You can sell tickets to people and sell it as an experience that people probably haven't had before. They can be served the best food, given some musical entertainment, and enjoy the atmosphere. You can also hold a charity auction during the evening. And any successful bids that are placed will be given to the charity that the evening is being hosted in support of. It's a fun way to raise money, so it's worth considering.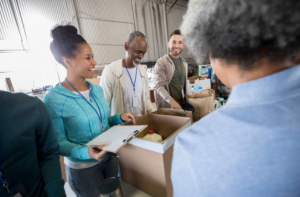 An Extreme Sports Challenge
To catch people's attention, you really need to show them that you're doing something unique and out of the ordinary. That's why many people choose to take on an extreme sports challenge when they want to raise money for a charity. It's something that anyone can do if they can muster the bravery. For example, you could do a Charity Skydive with some friends. When people hear that you will literally be jumping out of a plane for charity, they won't hesitate to donate their cash. And there are many extreme sports out there, whether it's bungee jumping or mountain climbing. Know your limits, of course.
Get Schools and Nurseries Involved in a Fun Activity
Charities often build links with schools and nurseries in their community. This is positive because it teaches the children about the importance of charity. And it also raises fundraising possibilities for the charities themselves. Things like charity walks or bike rides are quite common. Each child can then get donations from their family members. All the money collected can then be given to the charity when the activity has been completed. Ensure that you make it fun if you want to get kids interested though. You don't want to bore them.
Looking into alternatives 
In between your fundraising it is important to look after your own health too. Whilst your mental health may have had a boost, your physical health also needs to be looked after. If you suffer from chronic pain, you may want to limit your activity level as well as look into alternative treatments with proven benefits. You could look at caduceusscience.com. You may want to look into trying ways to help others with their chronic pain too as it is something that can affect many people. So whilst you start looking after and helping others and charities, look after yourself in the process.
Staff Writer; Sherry Rose