As Mardi Gras Approaches.
(ThySistas.com) One of my favorite times of year is right around the corner. I love Mardi Gras season. There are the parades, balls, amazing marching bands, the coming together of family, music and amazing food. There are hundreds of tourists from all of the world that come and party with us for Mardi Gras. Though this could be a great time it's sad we natives must say to tourist, New Orleans is not your trash can, a place to handle your violent issues, nor your toilet.
Too often the crime rate during events is attributed to natives when there are tourists that come to the city with the sole purpose of letting loose in every way imaginable. I understand we are a laid back people that know how to have a great time, but let's be reasonable. For as much as I love celebrations in my city…some of my excitement is stripped when tourist crap on the place I call home in the name of a good time. Mind you it is also a very hypocrite action because if we were to return the favor there would be a fight.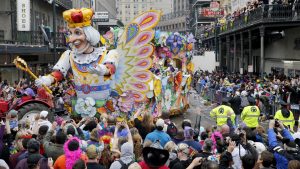 I'm reminded of this recent Bayou Classic…many people came and had a great time. There was an electrifying step show, a parade, then one of the most intense Bayou Classic games many had seen in years. After the game, of course, people took the party to Bourbon Street. The problem is a shooting broke at around 3am, and headlines read as if the shorting was the result of the Bayou Classic which had ended several hours ago.  The shooting injured 10 people, and the discussion regarding New Orleans crime ran rampant. It was as if the people of the city can't do anything with hurting or killing one another…this was the talk only to find out that the shooters were not from New Orleans, nor the Metropolitan area. The shooters opened fired after a wonderful family event while, until their identities were released, New Orleans were yet again ridiculed for violence. This is not to say natives don't need to come together to make the city safer, but this can be said for many places in this country. we are not an anomaly when it comes to violence…but we are a place where people come and do their dirt.
If you want to come to our city and have a wonderful time by all means do so…we welcome you. However, we never welcome the lack of regard and decency you bring with you. Natives are not the people you see turning Bourbon and other streets into a toilet…literally. There is a limit to the freedom, so don't be surprised when NOPD puts you in handcuffs for indecency.  Don't make it seem like you are a target and the city just don't love you.
We love our city, its culture, and our celebrations. I shouldn't have to consider staying home because I don't want to encounter the tourist that in the name of fun crap on my place I call home. If you are having some kind of feud it would be best to find a non-violent way to resolve such, and please do not bring it with you to New Orleans. As Mardi Gras approaches I'm still excited and looking forward to a great season. I just hope natives enjoy themselves without the violence, and tourist refrain from bring violence with them and forgetting how to use a restroom.
Staff Writer; Chelle' St James
May also connect with this sister via Twitter; ChelleStJames.