How to Create a Mimosa Bar.
(ThySistas.com) Mimosas are one of my favorite weekend adult beverages. For my 36th birthday a few years back, I had a backyard party and created my own mimosa bar. This mimosa bar I created, allowed my guests to "pour their own poison" so to speak. If you are the type of woman who loves brunches, then you know that any restaurant that serves bottomless mimosas are legit. But if you are thinking about entertaining a small group of people in your home or place of business, consider creating a mimosa bar.
Things you will need:
Champagne (Prosecco)
3-4 juices (ex., organe, mango, etc.)
Fruit (strawberries, raspberries, blackberries or blueberries)
Glass jars for each juice
Small bowls for fruit
Champagne flutes (glass or plastic)
Labels or folding cards for each juice
Decorations around the mimosa bar (optional)
I love using small chalkboards, some fresh flowers and adding other decorations around my mimosa bars just to spruce up the space that I'm using but feel free to do as you please and according to your budget.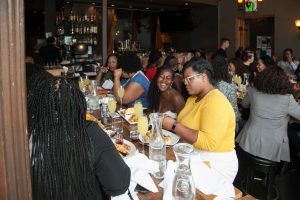 Once you've placed everything on your table (see examples from images), you and your guest are now ready to sip mimosas from your mimosa bar. These are great for baby showers, staycations with your partner, day parties, brunch or whatever you can think of that entertains people during the daytime and on the weekends.
Mimosas are so easy to make and depending on how much juice you like in them, can make you feel bubbly in no time. Most of the items you need to create one, you already have at home in your cabinets or refrigerator so you don't have to spend tons of money on anything. This is a perfect time to go to your local thrift store and finds crafts to spruce up the mimosa bar or get the type of glass jars, champagne flutes and small bowls that you need. If you're not into thrifting, then check out your local Dollar Tree for items listed previously.
Staff Writer; Felicia T. Simpson
One may also connect with this sister online over at; FTSimpson.com.