Trending Topic: Cassie is Pregnant by Her New Beaux.
(ThySistas.com) Twitter peeps took the news shared on Instagram of Cassie being pregnant by her beaux, Alex Fine, and not everyone is happy about it, obviously.  Just a quick recap of why Cassie pregnancy is even a trending topic.  Cassie is a music artist but highly known as the former lover of Sean "P. Diddy" Combs aka Diddy aka musical genius and serial entrepreneur.  The two dated for 11 years and last year they broke up (allegedly because Diddy was still in love with his soulmate Kim Porter who eventually passed away last year).  Cassie moved on, found a new love interest and now is expecting a baby girl.
A lot of tea to be sipping on and we need an exclusive interview with Oprah ASAP.  It is no surprise that a woman who is often mocked for even being with a man for 11 years without a true commitment of marriage to now getting "knocked up" by the first man she gets into a relationship with, shaking my head literally at the double standards that society places on men and women, especially within the African American culture.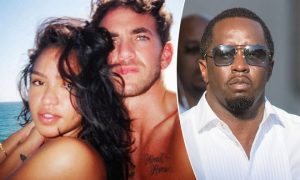 Men are applauded when they move on and get another woman pregnant whom they recently met but women are shamed and ridiculed.  Let's take a look at some tweets from Twitter:
"What's also funny about this Cassie chat is that Cassie has never said Diddy was trash, she never said she wanted him (Diddy) to marry her.  You guys are projecting your feelings from your failed relationships cause all the men you've been with never cared about you." – @Akhona_PQ
There is not enough money in my wallet to ever know the full details of any celebrity relationships because they spend tons of money on publicists to keep their relationships and those intricate details about them, PRIVATE.  Therefore, in the tweet above, I believe it's fair to say that we don't actually or truthfully know what Cassie and Diddy has ever really said about each other or really felt for one another.  Only the two of them will know that answer, or anyone apart of their teams or family members that they disclosed their deepest thoughts to.
"How do you guys know Cassie has met her soul mate?  Cause she pregnant?  And Diddy was toxic cause he didn't marry her? Sensational!" – @Bryaan_A1
I'm in total agreement with this tweet above.  Just because a woman is currently happy in a new relationship and pregnant does equal that she's found her soul mate.  I'm not mad at Diddy for not marrying Cassie because had he married her, cheated on her, had kids by other women during their marriage and still in love with ex, that would be toxic to me.  I believe Diddy knew he couldn't totally commit to Cassie and made a conscious decision not to marry Cassie.  Cassie is the only person responsible for her acknowledging her self-worth and moving on, not Diddy.
Whether you agree or disagree with the above tweets or my personal opinions, let's all agree to celebrate love between two people and the love that they will pour even further as they bring another life into this world.  Diddy and Cassie are both happy in their lives, living separately and enjoying love for other people in their lives separately and that's the happiness that we all should seek in our lives daily.
Staff Writer; Felicia T. Simpson
One may also connect with this sister online over at; FTSimpson.com.