The Complete Guide to Making Sure Your Vehicle is Within Legal Regulations.
(ThySistas.com) The EPA regulates smog and emissions from vehicles in certain parts of the country.  These regulations cut down on the amounts of pollutants being released into the air and also ensure that your vehicle is running efficiently.  If your vehicle falls into one of the categories listed below, it will need to be tested.  We have compiled a comprehensive list of ways to make sure you keep your vehicle legal.
Which vehicles should be tested?
Certain parts of Missouri require emissions testing on vehicles.  These areas include:
The City Limits of St. Louis
Louis County
Charles County
Franklin County
Jefferson County
If you live in one of these areas and your vehicle is 8,500lbs or less, then you are required to have your emissions inspected.
The first step to following emissions testing regulations is to find out if your car needs to be tested.  In the state of Missouri, gas vehicles produced in 1996 or newer are required to have an emissions test performed biannually.  Diesel vehicles produced in 1997 or newer are required to be tested.  If your car is older than this, then you are exempt from having to have your vehicle tested.
When should you have your vehicle tested?
The schedule for making sure your vehicle has met emissions testing regulations is easy to follow.  Even year cars should be tested during the course of years ending in an even number, and odd year cars should be tested during the course of years ending an odd number.  It does not get any easier to remember!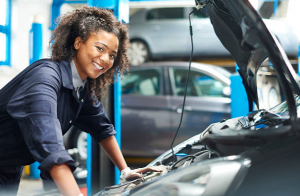 For instance, if you are driving a 2010 model car, the next time you should have your emissions tested would be 2020.  If you are driving a 2011 model car, you should have it tested before the end of 2019, and again in 2021.  This schedule puts your vehicle being tested once every two years.
If you purchase a car from someone else, you would need to go and have it tested, regardless of the year.  If there has been a title transfer, you are responsible for getting an emissions test done immediately.  Also, if you have moved from out of state, you would need to go ahead and take your car in for emissions testing at a licensed facility.
How do you get your vehicle tested?
Before you take your car to a certified testing facility, you should perform a self-check.  If your "check engine" light is on, you will need to go ahead and have a mechanic look at your car.  Vehicles with the "check engine" light on do not pass the emissions test.  Taking your car in for regularly scheduled maintenance may prevent you from having to address this issue when it is time for your emissions test.
If your vehicle was produced in a year such that it came with a catalytic converter, be sure that your car has one.  If the vehicle does not have a catalytic converter, or if the catalytic converter is not working properly, your car will not pass the emissions test.  If you need to have your catalytic converter replaced, you should go ahead and have this done before you go in for your emissions inspection.
Your car should be left running for no less than 10 minutes before you take it in for testing.  This will ensure that all functions of the car are working as they normally would.  If your car is making a popping noise when it idles, it will not pass the emissions test.  Be sure to have a mechanic check out this issue before you have your test performed.  The vehicle may just need new spark plugs.
Before you take your vehicle in for inspection, check to see if there are any recalls on your make and model.  Recall lists are easy to access on the manufacturer's website.  You will need to have these repairs done before you go in for your test and before your vehicle can pass an emissions test.  Not to mention, having recalled problems repaired ensures your safety.
Check your items like your belts and hoses regularly for any wear.  If they are presenting with wear, you should go ahead and replace them.  Complete regular tune-ups on your car or have a professional do so.  Your oil should be changed regularly, and your spark plugs should also be traded out before they begin to present problems.
If you know of any mechanical problems with your vehicle, check with your manufacturer and see if they might be covered under warranty.  It might be that you do not need to spend a lot of money to get your vehicle up to par before your emissions test.  If you have a warranty on your car, go ahead and schedule for repairs to be made at your nearest dealership.
Where can you have your vehicle emissions inspection performed?
The Gateway Vehicle Inspection Program (GVIP) is responsible for emissions testing in Missouri.  GVIP provides a wealth of information on emissions requirements and the reasons emissions inspections have been put in place.  GVIP works under the authority of the EPA and serves to keep Missouri air cleaner and Missouri vehicles running more efficiently.
At their website, you can find a list of stations licensed to perform emissions inspections.  GVIP's database also provides a report on each resident's most recent emissions inspection.  You can use your license plate number to access the information on your car.
GVIP also provides a checklist to use in preparation for your emissions inspection.  It will provide you with some of the same information from this article.  The GVIP website can be helpful in many ways.  It would be pertinent to check the website before going in for your emissions inspection.
Shops that are licensed to perform emissions testing should have a GVIP sign hung in a predominant location so that it is easy for you to tell you are in the right place.  GVIP automotive shops should also have a sign up signifying that they are a licensed location for performing emissions inspections.  These shops are under the authority of the Missouri State Highway Patrol.
What if your vehicle fails inspection?
If the emissions test says your car is putting out excessive pollution, you will need to have repairs made before you have your car retested.  Some emissions shops also work on mechanical problems.  They will make repairs to your vehicle and then test it again to see if it is emitting less pollutants.  The first emissions retest does not cost you any additional money.
If your emissions testing facility does not do mechanic work, you will need to find a trusted mechanic to do the work before you bring the car back to be retested.  If you end up taking your car to a different mechanic, you will need to bring all of the paperwork that the emissions testing facility gave you with you.  This will help save the mechanic time and save you money.
Forms given to you by the emissions testing facility will include a vehicle inspection report.  This form will describe the reason your car could not pass inspection.  The mechanic can use the information on this paper to avoid having to do a lot of diagnostic work on your car before he makes the necessary repairs.  A repair data sheet will also come with this and will be helpful for your mechanic's use.
You will also be given a Repair Facility Performance Report.  This form will list reliable mechanics in your area who are capable of making the necessary repairs to your vehicle.  If you do not already have a mechanic in mind, this sheet gives you a good place to start.  You should call prospective mechanics first and compare the rates they will charge for the needed repairs.
If you believe the cost of getting your vehicle up to par for emissions testing is excessive, you can file a cost-based waiver form.  To have a cost-based waiver approved, you will have to show that you have had repairs to your car done at a licensed automotive repair shop and that you have spent at least $450 on repairs suggested by the emissions testing facility.
This may seem like a lot of information, but emissions testing is key to protecting the environment, especially in and around large cities.  The testing process is fairly simple and should not require exorbitant costs on your part.  We have highlighted the important steps to making sure your vehicle is up to par before you ever go in for your inspection.
If you keep up the regularly scheduled maintenance on your vehicle, then you are less likely to have a problem when it comes time for your biannual emissions testing.  Be sure to keep a check on your gauges and replace parts that are beginning to show wear.  Use a trusted, licensed mechanic, and you should have no problems when you go in for your inspection.
Staff Writer; Lisa Washington