Black Girls Rock…
(ThySistas.com) Black Girls Rock! What an exciting term and ideal to appeal to the young black girls across the country. I like the sound of it. The look of it, however, is contradictory.
Similar to my blog post about the  'Sorority Sisters' cancellation, I feel that the psyche of the black woman should be analyzed to see as to what a group such as this really represents visually for the world to see as representative of the black woman as a whole.
How do black girls see black women exhibiting support for Michelle Obama, when it's where she came to be the First African American First lady. Her city is a movie rather than an intervention. It's a bit late to speak of these things, as her time as FLOTUS is coming to an end, and lack America women showed their best and worse during her time in the White House.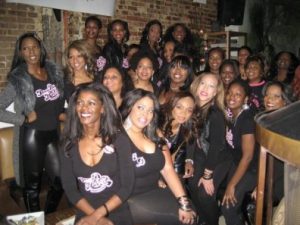 How does the black woman show black girls how to nurture her womb, when there's never an outcry from black women when it comes to showing off black women having abortions, or involved in infidelity, and practically glorifying polygamy and non-committal relationships?
How many real housewives are on the 'Real Housewives', 'Basketball Wives', and shows exposing black relationships anyway?
Is it logical to say that black women see themselves as being on a pedestal in their relationships, when they are fine with being called bitch, ho, BM (OMG! Yes…shit), side chick, baby mama, bae, wifey, and any other name that a guy who has single, resentful mother syndrome from his childhood as being the target for daily brutal beatings and told he wasn't crap?
Relationships in the black community is like a vengeance/revenge relationship. Emotions break relationships in the black community.
Black women who call themselves the worst bitches (bad bitches) attract black men due to their familiar nurturing style. It's a cycle bossy, yelling, fighting and gifting.
There's no outcry for something so painful and private, but an uprising against light skin girls playing characters. It's the portrayal that counts, but that's as deep as a black woman will allow a conversation to go, as I've learned over the years of having black women and pro-black online groups block me from speaking to them after I asked questions about solidarity and such.
It was blatantly clear that I didn't know my history, and had in fact…became a coon.
Ironic how GMO and pro-black go together, yet slavery and post slavery can't be spoken about at the same time.
I digress…
All in all, my wish for young black girls is to understand the necessity of finding and becoming yourself, and not holding on to those which no longer serve you. It's painful in the end, and you only become what someone else you to be, which a shell of a person. The emotional toll that takes place out of resentment, anger and trying to fit in with your environment is what keeps black women from seeking mental health care less than abortion clinics.
It's seems embarrassing, however, it's only the first step in the right direction: Acknowledgement that there is a problem with girls going into foster care and being shunned from their homes due to dysfunction. Fix the dysfunction within yourself first, then it will be easier to not see our pain as something to be entertained by.
Peace and Blessings to All!
Staff Writer; Celeste Writer
Official website; http://celestewriter.com/