Lupita Nyong'o New Face Of Lancôme Cosmetics.
(ThySistas.com) Mexican born actress and new "it" girl Lupita Nyong'o is now the new face of Lancôme cosmetics. 
The French based cosmetic and skincare company announced last Friday that Lupita Nyong'o will be the new brand ambassador.  Starting in September, the Oscar award winning actress will star in ads that will spearhead Lancôme's product line.
When talking about her new gig, Lupita Nyong'o said, "What appealed to me about Lancôme is that they're not dictating what beauty is.  Hopefully it's a symbiotic relationship — that I benefit from being associated with them, and they benefit from being associated with me, as well. And for the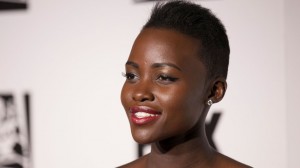 consumer at large, I think Lancôme has a range of products for every woman, and I think having me will expand people's understanding of, hopefully, what Lancôme stands for, who Lancôme is for."
The 31 year old is Lancôme's first ever Black model, and many feel she should tread cautiously in her new role since Lancôme models are traditionally white.
Former model Bethann Hardison who is now a fashion activist with the Diversity Coalition, told Al Jazeera that other cosmetic brands have contracted "dark-skinned women before," but they hardly ever used them in their campaigns. 
Hardison herself is a Black woman.  She further stated that in the 1960's people were quite shocked by her appearance when she graced the runway stage. When speaking about Lupita Nyong'o's unique position, she stated, "Everyone relates to her because she's so cute and stylish. I think that's wonderful. I think it does send a clear energy, like a wave, in the industry and beyond, when people see people that are integrated culturally."
Hardison is hoping that the modeling industry, which she says is "racist," will gradually change over time.
Lupita Nyong'o has publically acknowledged that she didn't always like her rich, beautiful dark skin and would often pray to God to make her a little lighter.  She stated that she came to accept herself when she saw Alek Wek, a well known Sudanese supermodel who too shares her rich complexion.
Lupita once said in an interview, "When I saw Alek I inadvertently saw a reflection of myself that I could not deny.  Now, I had a spring in my step because I felt more seen, more appreciated by the far away gatekeepers of beauty."
Alek Wek recently told E! News that she was "very humbled" by Lupita's admiration of her.  She said, "I told [Lupita Nyong'o], 'You are so inspiring.' I said, 'Thank you so much for always saying those beautiful words about me!'"
The modeling industry since the dawn of times had issues with putting Black women in the spotlight to represent their brand.  Some people are wondering if they will lighten Lupita's skin as they did Beyonce's skin when she appeared in a 2008 L'Oreal ad.
So the question is should Lupita Nyong'o tread cautiously in this new role given to her?
Staff Writer; Yolanda Spivey