Is Your Car Prepared for Your Newborn?
(ThySistas.com) Being a new parent is exciting, amazing, and truly wonderful. But it's also an exercise in how not to hurt a tiny person that's been fully entrusted to your care. It doesn't help that people in your life likely only want to chat about the mistakes new parents make on both big and small matters alike, such as wondering if is traveling full-time worth the savings. But one of the main activities where should succumb to those overprotective feelings you've been having is when you and your newborn are taking all those road trips to Target and the grocery store. Part of being a good defensive driver is planning ahead, so start getting your car ready with these tips.
1. LATCH Them In
Since 2002, the clear majority of car seats come with the LATCH system, which is a step in the right direction when it comes to upping the ante on children's safety. Prior to the 1980s, the main safety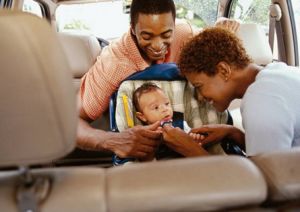 mechanisms for newborns included hoping for the best, and assuming your kid was some sort of super hero in disguise. Even when car seats became popular in the latter part of the century, no one ever seemed to know if they were getting it right. (Later, they would find out that they were almost certainly not getting it right.)
The Lower Anchors and Tethers for Children was specifically made so it would be easier to install the seat. Unfortunately, close to 45% of not installed as tightly as they should be. Ensure that the seat has no more than one inch on any of its side. Any more give than this, and your child is at risk. A defensive driving course can also help you get those pivotal questions answered when it comes to the mechanics of the seat.
2. Angles and Fits
Believe it or not, the car seat manual will come in handy when it comes to positioning the angle on the seat. Car seats move with your child's head in the event of an accident, so their major body parts are always supported and cradled. The manual will give you the best tips because each seat is different. You also need to ensure that the harness is as tight as possible, and that the clips are at the right height. Experts say the clip should be at the level of your newborn's armpits, and that the straps should always lie flat up against your child. Too many parents have the harness on loosely, which can cause a greater impact on the child's body in the event of a crash.
3. Check the Labels Before You Buy
There are lots of products that claim to help keep your kid protected, but parents really need to be aware of these promises. All of those after-market products made for easier car rides and more comfortable babies (e.g., shade covers, head supports, etc.) may not actually be approved for anything besides making a profit. In fact, they may increase the odds your child is injured. A far safer bet would be to only purchase accessories that were made by the manufacturer of the actual car seat (assuming you didn't buy a car seat from the back of someone's trunk in a shady part of town.)
4. Center Stage
You're trying to keep your child away from a lot of hazards in a collision, so it makes sense to give them some space. Ideally, your child should be in the back of the car, in the very center position. The more room you give your child, the less likely they'll be in danger.
Staff Writer; Latasha Jones